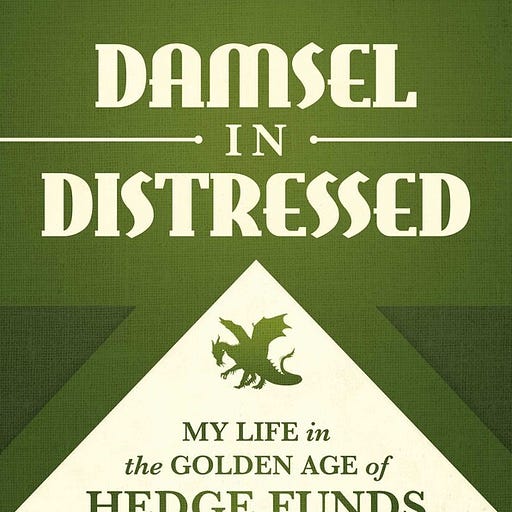 Nov 4, 2021 • 56M
Conversation with Dominique Mielle, Author of Damsel in Distressed
"Skill in distressed is to be able to think about different scenarios and to anticipate what the adversary is going to do with his pieces."
Disclaimer: The following content is provided for educational purposes only and does not contain investment advice. It is purely subjective. Always do your own due diligence.
---
Hello everyone.
I am so happy to share my conversation with Dominique Mielle (@DominiqueMielle), author of Damsel in Distressed. Dominique was a partner and senior portfolio manager at Canyon Partners, one of the largest distressed and credit hedge funds.
We talked about her experience during the telecom bust, the airline bankruptcies, and the financial crisis, how to deal with losses and stress, distressed as a chess game, the difference between generalist and sector specialist models, how to pitch and build an asset management business (she built Canyon's loans securitization business after the crisis), and the hedge fund industry in general. I had a lot of fun and learned a lot during our chat and I hope you enjoy it as well.
I realize listening in the substack can be a bit cumbersome and spent a day setting up additional channels. I might also add audio versions of my longer pieces there if that's of interest (someone told me yesterday that they listened to all of Packy McCormick's writing on Spotify🤔).
I also submitted it to Google but apparently it takes a few days to be processed or approved😪

RSS feed
I'm still learning about editing the audio files and dealing with all the logistics of these conversations. Happy to hear any feedback in the comments or via email or Twitter DM🙏
---
We talked about:
3:00: The WorldCom bond trade.

6:30: Dealing with a losing investment.

9:00: Importance of expertise and networks in distressed investing. Distressed investing as a game of chess.

"Skill in distressed is to be able to think about different scenarios and to anticipate what the adversary is going to do with his pieces."

11:40: Distressed investing as an apprenticeship business.

14:15: Generalist vs. sector specialist model.

17:30: Hertz bankruptcy.

20:40: Airline bankruptcy investing and Equipment Trust Certificates.

28:00: How distressed investing changed over the past decades. "It's more competitive. It's harder to to beat the market. It requires a lot of expertise, a lot of conviction. A lot of creativity maybe more than before."

32:00: Navigating the financial crisis in 2008

35:00: Mental resilience and losses.

38:00: Losses are unavoidable.

39:20: The business of investing: building a CLO business, raising capital.

40:59: Pitching, fundraising.

45:00: Women in hedge funds. "In 20 years, I only met one other female partner who was doing distressed. And she's a friend of mine."

48:30: Implications of hedge funds as a mature industry.

51:25: Pitching and communicating ideas.

53:45: Managing a team of analysts.
---
Enjoyed this piece? Let me know by hitting the ❤ like button.👇 Thank you!
If you enjoy my work, please consider sharing it with friends who might be interested. It would mean a lot to me to reach (and teach) more people. 🙏